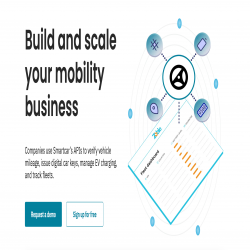 Smartcar Developer Platform
Sanketh Katta
For the 2021 autumn season of API The Docs, 16 DevPortal Awards nominee teams share the highlights of their devportal journey. Each team will introduce the best features of their sites, share their experiences, talk about their future plans, and participate in Q&A sessions.
About the session
Date: 3 November, 2021
Sanketh Katta (CTO + Co-Founder) will introduce the Smartcar developer portal. The site was nominated in the "Best API Business Model", "Best API Reference Documentation & Support", "Best Accessible Devportal", and "Best Onboarding" categories for the Devportal Awards 2021.
About the portal
"Smartcar is a product built by developers for developers. We make it incredibly easy to integrate any web or mobile app with cars. Smartcar acts as the link between mobility apps and their customer's cars."
"The best way to validate a product's strengths is to get it into the hands of customers. Smartcar serves developers in many different industries. For example, auto insurance providers like Just Auto Insurance use our APIs to charge customers by the mile. Car sharing businesses like Turo and Zemtu offer contactless rentals. Electric utility providers like Krafthem provide cheaper and more sustainable electricity to EV owners. And fleet management software providers like Azuga offer lightweight, hardware-free fleet management solutions. These developers use Smartcar to quickly and efficiently connect with their customers' cars.
Finally, a developer platform for cars is unique because developers are not the only ones interacting with it in the real world. A developer's customers—i.e., car owners—interact with it too. This is why vehicle owner privacy is a core part of Smartcar's product.
Before making an API request to a car, developers need to collect consent from the vehicle owner. Smartcar's proprietary user consent flow, Smartcar Connect, makes this process fast and seamless. In the developer's app, the vehicle owner clicks "Connect your car." They then log in with their connected services account and review the permissions that the app developer is requesting access to (e.g., read odometer, read location, and lock/unlock vehicle doors). The whole process takes about 30 seconds and gives the car owner full transparency and control.
At Smartcar, we believe a great developer platform for cars needs to be developer-centric, have robust product features, and provide a seamless experience to vehicle owners."
Recaps are published: watch Smartcar's devportal demo and Q&A on the Pronovix recap page »