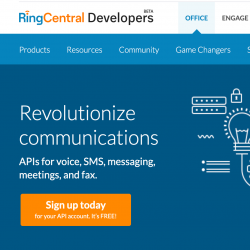 RingCentral Developers
Michael Stowe
For the 2021 autumn season of API The Docs, 16 DevPortal Awards nominee teams share the highlights of their devportal journey. Each team will introduce the best features of their sites, share their experiences, talk about their future plans, and participate in Q&A sessions.
About the Session
Date: 6 October, 2021
Mike Stowe (Director of Developer Marketing) will introduce the RingCentral developer portal. The site was nominated in the "Best API Reference Documentation & Support", "Best Developer Dashboard", "Best Onboarding" and "Best Community Spotlight and Outreach" categories for the Devportal Awards 2021.
About the portal
"The RingCentral Developers portal is built by developers for developers, offering a No Code, Low Code, and Pro Code approach to app development. In conjunction with rapid onboarding, community is at the heart of everything RingCentral does; which is why they have a dedicated community section of their site (not just a forum). They also recognize and reward their community contributors or "Game Changers", and highlight community contributions on Twitter (@ringcentraldevs, over 50k followers), Weavr.cafe, and on their documentation. RingCentral also engages their community through VIP events and monthly virtual meetups.
Their onboarding process was built from the ground up with a focus on time to first app, with one-click app creation and easy to follow, copy and paste guides in multiple programming languages. Likewise, RingCentral rebuilt their documentation from the ground up and provides a fully interactive API Reference that links to the developer's account to ensure data and usage consistency. To speed development, developers are provided with a fully functional sandbox with SDKs in 11 different programming languages. RingCentral also provides their developers with advanced API analytics to help them identify errors, latency issues, ensure all requested permissions are used while assisting developers in QAing their app before launching in production.
Lastly, RingCentral Developers receive support the way they choose, with RingCentral's support team, developer evangelists, and community active on Twitter, GitHub, Stack Overflow, and their Developer Forum. For more complicated or proprietary questions, RingCentral provides free tier-1 developer support where developers can work with a specialist or an evangelist one-on-one to build their application."
Recaps are published: watch RingCentral's devportal demo and Q&A on the Pronovix recap page »