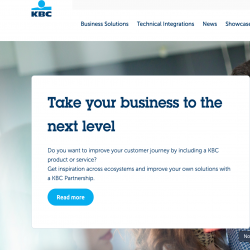 KBC Developer Portal
Katrien Van Gijsel and Machteld Swillen
For the 2021 autumn season of API The Docs, 16 DevPortal Awards nominee teams share the highlights of their devportal journey. Each team will introduce the best features of their sites, share their experiences, talk about their future plans, and participate in Q&A sessions.
About the session
Date: 13 October, 2021
Katrien Van Gijsel (Team lead at KBC Bank & Verzekering) and Machteld Swillen (Product owner at KBC Bank & Verzekering) will introduce the KBC developer portal. The site was nominated in the "Best Developer Portal for Alternatives to REST-APIs", "Best Use of API Gateway Integration", "Best API Reference Documentation & Support", and "Best Editorial Experience in a Devportal" categories for the Devportal Awards 2021.
About the portal
"The KBC Developer Portal is our digital store for integrations of our products and services. We offer all necessary information and documentation for developers, including sandbox, easy onboarding, sample code and multiple integration methods. Next to that, we cater to business people by showcasing possible business solutions and sharing news and user stories. The offered integration methods vary from API integration to no-code solutions such as our partner hub. This in order to serve the variety of entrepreneurs that can benefit from extending their offering to the customer with a financial one, both for banking as for insurance."
Recaps are published: watch KBC's devportal demo and Q&A on the Pronovix recap page »