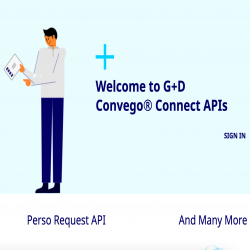 G+D Convego® Connect APIs
Meenakshi Khatri & Rahul Chavan
For the 2021 autumn season of API The Docs, 16 DevPortal Awards nominee teams share the highlights of their devportal journey. Each team will introduce the best features of their sites, share their experiences, talk about their future plans, and participate in Q&A sessions.
About the session
Date: 20 October, 2021
Meenakshi Khatri (Global Solutions Product Manager) and Rahul Chavan (Lead Engineer) will introduce the G+D Convego® Connect APIs developer portal. The site was nominated in the "Best Internal Devportal", "Best Use of Monetization", "Best Use of API Gateway Integration", and "Best Developer Dashboard" categories for the Devportal Awards 2021.
About the portal
"G+D Convego® Connect APIs is a comprehensive API-based Devportal platform which allows our customers in discovering a new world of Card Issuance and Digital Payment banking solutions. Our aim is to provide simple, easy and seamless API-integration solutions to ensure that our customers and partner institutions can keep up with the changing expectations of their end-users and also, stay ahead of them.
Our platform is securely hosted in the cloud and all solutions provide connectivity to our 20+ global perso bureau sites. We work closely with our customers to deliver the right set of APIs / SDKs - so that we can revolutionize the Card Issuance services and payment solutions: right from the time a cardholder places an order for its card, to providing real-time card delivery status, activation, usage and renewal process."
Recaps are published: watch G+D Convego® Connect APIs' devportal demo and Q&A on the Pronovix recap page »