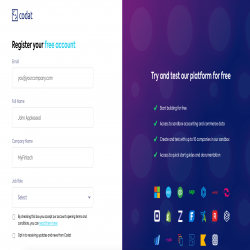 Codat Portal
Callum Taylor
For the 2021 autumn season of API The Docs, 16 DevPortal Awards nominee teams share the highlights of their devportal journey. Each team will introduce the best features of their sites, share their experiences, talk about their future plans, and participate in Q&A sessions.
About the session
Date: 3 November, 2021
Callum Taylor (Product Lead) will introduce the Codat developer portal. The site was nominated in the "Best API Business Model", "Best API Reference Documentation & Support", and "Best Onboarding" categories for the Devportal Awards 2021.
About the portal
"The Codat Portal is designed to enable developers to get started in seconds, with everything our community needs to build fast, innovative financial products on our API-first platform.
Once logged in, developers are able to complete the core flow of our product - create a company (which represents one of their customers), link that company's data using our native standardized integrations (accounting, eCommerce, payments, banking, and others) and visualize the data in a highly digestible way.
From here, our community can easily grab their API credentials and explore our API.
Coming very soon we'll be offering guided recipes and SDKs for popular use-cases when building on our product!"
"Developers can sign up for a free account. Once logged in, they can use our intuitive default setup to test our integrations within seconds - linking and viewing sandbox data in a few simple guided steps. This staged model is not reliant on authorisation status but ensures developers have a good grasp before linking out to our API documentation, API credentials, and video tutorials, to go deeper into our product. It is easy to upgrade to our 'Start-up' plan from anywhere within the Portal. We also offer a taster of paid-for functionality as we look to attract and convert new users via the Portal.
Developers can access our public API documentation without registering for a free account."
"Upon viewing our docs, users can choose developer-specific get started guides. Following this, we provide 'recipes' for typical user journeys with code examples that can easily be copied from within our 2 column style.
We offer a wide range of API basics support. We clearly outline how to get set-up with each of our integrations and offer FAQs as well as interactive first-line support guides. Our data model has full endpoint and JSON example responses and definitions for each, inclusive of methods and parameters. This links out to our interactive API and Swagger guides, as well as our public Product Roadmap and API status pages. All of which can be easily switched between our test and production environments. Our docs are updated everyday, as we practice CI/CD and regularly release new functionality.
Excitingly, we are in the midst of setting up a developer enablement team who will be developing our new docs experience to provide more interactivity, guided examples, and support!"
"We provide instant, free, and unlimited access to our API using our sandbox data for all integration types. This enables developers to freely implement prior to go-live, unimpeded by commercial challenges. We also provide very limited access to our paid-for features to our free accounts - pulling and pushing real business data with our two most popular standardized integrations - Xero and QuickBooks Online.
If users are interested in progressing they have a number of options. Our 'Start-up' plan at a fixed monthly billing rate takes seconds to upgrade to via our embedded Stripe integration directly from the developer Portal. For Enterprise use cases, we offer tailored solutions, volume pricing, and additional dedicated support. There is nothing preventing any customer-type from upgrading to our Start-up plan as we want to make sign up as frictionless as possible."
Recaps are published: watch Codat's devportal demo and Q&A on the Pronovix recap page »