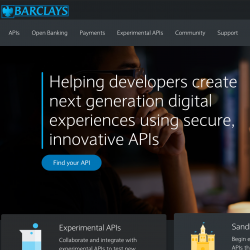 Barclays API Exchange
Liam Gallagher & Jake Eastham
For the 2021 autumn season of API The Docs, 16 DevPortal Awards nominee teams share the highlights of their devportal journey. Each team will introduce the best features of their sites, share their experiences, talk about their future plans, and participate in Q&A sessions.
About the session
Date: 3 November, 2021
Liam Gallagher (UX Design Lead) and Jake Eastham (Frontend Developer) will introduce the Barclays developer portal. The site was nominated in the "Best Internal Devportal", "Best Findability of Products in a Devportal", and "Best Accessible Devportal" categories for the Devportal Awards 2021.
About the portal
"As a global organisation Barclays has a broad community of Developers aligned to various business areas, each building different capabilities to better serve our customers. Barclays API Network is the key in bringing all of that together; driving our internal API ecosystem, benefiting colleagues, and aiding efficiencies across our business by promoting API discovery and re-use. Offering a maturity score and showing the status of APIs through the development lifecycle, allows potential consumers to judge whether a service is best-fit for their project. Barclays API Network also contains workflows and tooling to simplify internal processes including onboarding onto the bank's various API platforms/hosting environments. API documentation and specifications, deployment history, NFT statics, pipeline and configuration data; can all be consumed from the portal.
In addition, Barclays API Network acts as a community hub for Developers to visit and is central to communicating API strategies, product updates and training material. This promotes investment in our development teams & colleagues, allows us to share industry trends and news, and furthers the internal API agenda."
"The API Exchange recognises the sales funnel and benefits that Search and therefore SEO offers as the primary avenue for new traffic to reach our developer portal. The investment in SEO is key to support the Developer navigating directly to the content to serve their needs. Furthermore, the API Exchange has invested in linking key journeys together to support way finding. This enables linking and the natural flow of journeys; Sandbox App creation dashboard view, to our guides of 'How do I take this API to Production'. As a result of this, we have naturally seen a reduction in support Tickets, as the API Exchange is involving to become self-service, enabling our Developer community to quickly consume products and services."
"To ensure Barclays provides world class Accessibility, Barclays have a dedicated in-house accessibility team who we consult frequently during design changes. In addition, the UX/UI team within API Platforms also has an "Accessibility Champion" who cross skills our front end engineers, ensuring accessibility remains at the forefront of everything we do.
The Covid Pandemic has highlighted that accessibility is important now more than ever. Accessible websites help to keep everybody connected to the things that they care about and with the increasing shift to remote working, here at Barclays we believe it's imperative we remain accessible to each and every user.
We're incredibly proud to have won the award in 2019 and 2020 and are conscious not to rest on our laurels and continuously improve our offering. After rolling out Dark Mode late 2020, we had to ensure that the accessibility standards of the site were upheld. We ensured that our content remains legible in Dark Mode and must be dark enough to display white text."
Recaps are published: watch Barclays' devportal demo on the Pronovix recap page »