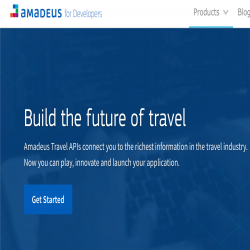 Amadeus for Developers
Francois Masson
For the 2021 autumn season of API The Docs, 16 DevPortal Awards nominee teams share the highlights of their devportal journey. Each team will introduce the best features of their sites, share their experiences, talk about their future plans, and participate in Q&A sessions.
About the session
Date: 13 October, 2021
Francois Masson (Manager of Product Management and UX/UI team) will introduce the Amadeus developer portal. The site was nominated in the "Best use of API Gateway Integration", "Best API Reference Documentation & Support", "Best Editorial Experience in a DevPortal" and "Best Onboarding" categories for the Devportal Awards 2021.
About the portal
"Amadeus for Developers is an open developer portal that makes it quick and easy to connect to Amadeus travel APIs and build your solution with the richest data in the travel industry. Via the Self-Service API catalog, you get instant access to a catalog of essential travel functionalities – from flight and hotel booking to destination content or even AI-powered travel insights – and useful documentation, guides, and other resources to get started quickly.
Amadeus for Developers aims to provide a stellar developer experience by streamlining the onboarding process to just 3 minutes, providing easy access to the documentation and resources that developers need to start building, and publishing guides, tutorials, and other content designed to help developers achieve their goals quickly."
Recaps are published: watch Amadeus' devportal demo on the Pronovix recap page »