Become a Sponsor
Sponsor API The Docs Virtual in 2022
What is API The Docs? 
API The Docs is a conference series ca. 2016 for practicing and prospective technical writers, API developers, API team leads and product owners, developer relations roles and anyone interested in the documentation side of the transformation that APIs bring to the world.  
The conference is a platform dedicated to share, discuss and learn about the latest trends and best practices of API documentation in its various aspects.
If you would offer your sponsorship to API The Docs, and/or you have questions, please reach out on info@apithedocs.org
Why sponsor?
API The Docs brings together technical writers and other specialists closely involved in the growing complexity of needs, strategies, tools and user experience of API documentation and developer portals. Presenters talk about their front- and backstage innovations and best practices in the field of API documentation, to fuel inspiration and progress. 
As a sponsor, you contribute to uphold this techstack- and vendor-neutral knowledge sharing space, and to further the state of the art of the API economy.
API The Docs sponsorship is an excellent opportunity to:  
Foster positive brand awareness  

Engage with new audiences of varied perspectives  

Build relationships with players in the API ecosystem

Sound out new solutions    

Raise awareness your API program  

Introduce your API team to potential future colleagues and partners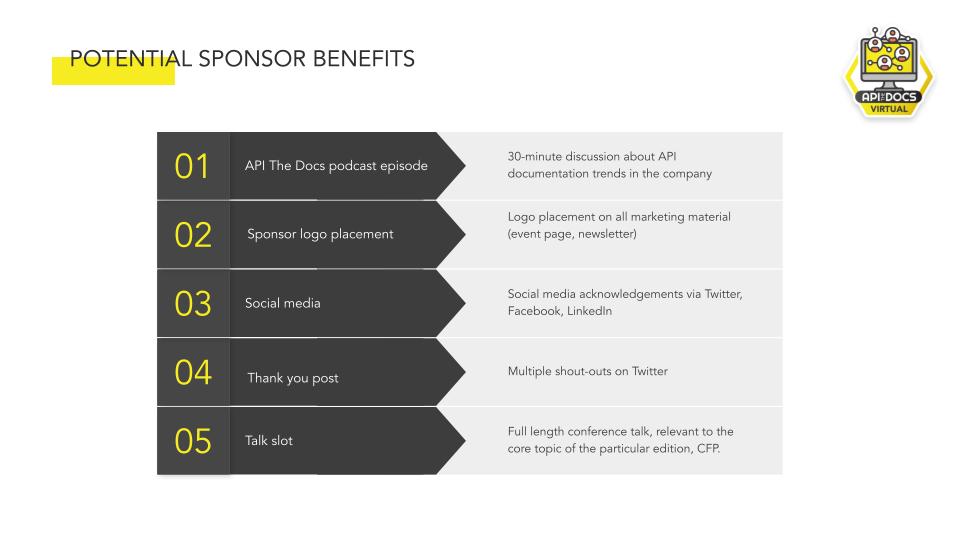 SPONSORSHIP OPTIONS
API The Docs is looking for sponsors to create the best conference possible. If you want your brand to be part of the conference, check the following sponsorship packages and contact us at info@apithedocs.org.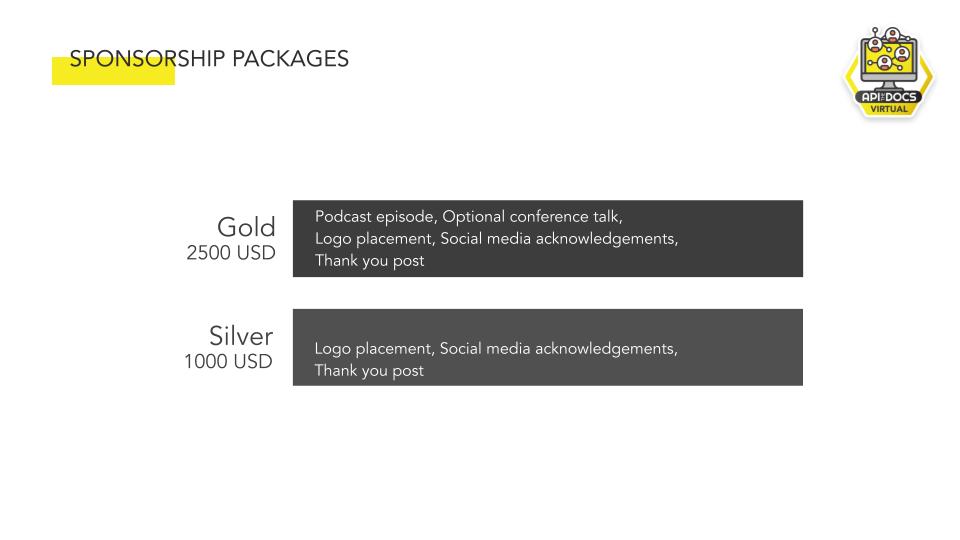 Going beyond these packages we are happy to work with you on custom sponsorship options that suits your goals the best.
Past conferences were kindly supported by Apigee, MongoDB, Mozilla, Netlify, Nexmo, ABN Amro, GDS UK, SlashData, Adyen, Cisco DevNet, Vonage and Buildkite.
We pay a great deal of attention to assemble high-quality talks and create a conference program that covers a wide variety of topics. The organizer team values originality and rejects direct sales pitches.
We also welcome custom sponsorship inquiries. Reach out on info@apithedocs.org