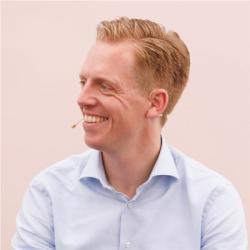 Koen Adolfs
ABN Amro Bank
KEYNOTE – Driving Developer Culture at ABN AMRO & PANELIST
About the Talk
At ABN AMRO we are committed to drive Developer Culture and Success. In this Keynote, Koen Adolfs (Head of API Portfolio in the Future Customer & Payments Domain) and Gijs van den Hoven (Head of Developer Experience), will share their experience on this topic in a combined presentation. Koen will focus on the importance of Developer Portals, how to drive an API First culture, and how to utilize evangelism to get things done. Gijs will discuss the Developer Experience at ABN AMRO, how they empower developers, and best practices as well as challenges.
About the Speaker
"Dear developers, let's build the future of banking!"
Old or new fashioned, people want a different approach to banking. As a result, the industry (like many others) faces fundamental challenges in today's fast moving world. Customer behavior and expectations change rapidly, impactful regulations are introduced and new technologies rise every day.
Adapting to these changes requires an organization to:
(1) innovate,
(2) be agile,
(3) partner up,
(4) realize continuous delivery.
With grit and enthusiasm, he currently helps ABN AMRO to run this distance to success. His ambition is to be a valuable leader in the development and implementation of digital change and innovation. A fascinating work-field; in which he likes to team up, build stories which resonate, find the right business strategy and put big ideas into execution mode.
Having initiated strategic developments on Internet and Mobile, he now focuses on APIs. The reason? In the 2000s, you've surfed through websites for your digital channels. In the 2010s, you've used phone apps for your mobile channels. In the 2020s, you enjoy Application Programming Interfaces (APIs) embedded in every website and mobile application. APIs as such, have evolved from internal integration tools to 'digital building blocks' which connect organizations.
Foreseeing big opportunities in the growth of digital ecosystems, he helps to open up valuable capabilities via APIs, use those of others, and provide everything a developer needs to reinvent customer experiences. His goal? Speed up, build a future-proof bank, and innovate finance together.