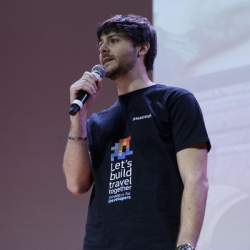 What Makes an API Product Successful?
Biography
After spending years being a technical coach, Anthony works now as a developer advocate in the API industry. For the last 2 years, he has been defining, building and promoting an Open API program for the travel industry, facing all the technical and business challenges of building and scaling such a program in a big corporation.
Talk description
In the jungle of public APIs, how do you build a product that will outplay the other ones? In today's world having an easy to use API is not enough. Your competitors provide SDKs, interactive documentations, gamification, demos & tutorials. I will give your all the tips to have a rocking API product.
How long does it take for your users to understand what your API does? How long to create an account? How long to make the first API call? Do you provide guides? Code samples? SDKs (generated or manually written)? Do they need to write code to test your APIs? What tooling are you offering? How long to write the first hello world?
In this talk, we will take a look at the things that need to come in addition to your APIs to offer the best onboarding process and an outstanding user experience.