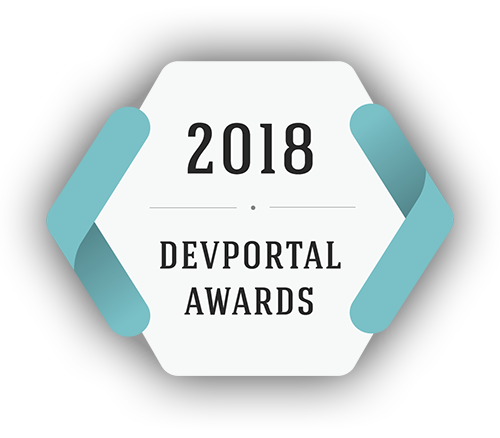 Applaud the world's best devportals
APIs are transforming the economy, and are becoming a key component of any organisation's business strategy. To be successful however, having APIs is not enough. Without well-designed and actively maintained developer portals and great documentation, even the best APIs won't see the adoption they deserve.
The growing importance of APIs also means that their documentation needs to cater to a wider range of audiences. Developer portals now not only need to convince different types of developers, they also need to educate non-technical decision makers about their benefits.
A handful of leaders in the API space are developing DX innovations for their API products and developer portals, but these efforts are not coordinated, and it is difficult to see clear trends in the API docs space. That is why we want to create an opportunity to celebrate the best developer portals and their API documentation components, so that the API industry as a whole can accelerate its own learning.
The DevPortal Awards will recognize and celebrate the best solutions in a number of categories. Since a developer portal should contain more than the reference documentation of its APIs, we've created nomination categories that highlight and award - what we believe to be - the key components of a developer portal. Think we've missed something important? Get in touch!
Nomination categories
Best overall developer portal
Award for the overall winner: the developer portal with the overall best experience.
Best onboarding
DevPortals that clearly show what their APIs are about, how they work, how developers can start integrating and where they can find resources.
Best decision maker documentation
Organisations will only use an API if they understand the value of it, that is why it is important to increase the perceived value of an API through appropriate and clear business descriptions.
Best API reference documentation
Devportals that improve on API reference documentation and how they integrate with "try it out", and sandbox functionality: the heart of developer experience.
Best community spotlight & outreach
Devportals with creative solutions or initiatives to show developers that their work is appreciated. Portals with great community sections where developers can share knowledge and build connections.
Best post-integration & maintenance support
Devportals that do an exceptional job in creating trust towards their APIs by clearly, yet innovatively indicating their availability and reliability. Portals that make it easy to maintain an API integration through great release notes and other maintenance support.
Best dev portal policies & terms of use
Devportals that build trust through a genuine approach even in the seemingly unglamorous topic of policies and terms of use.
Best API business model
Devportals that not only have innovative business models but also found an innovative way to present them. E.g. API pricing model innovations, new ways to monetise APIs and how these are explained on the portal.
Best new DX innovation
Devportals that lead the way in boosting developer experience for their developers as a whole or for specific subgroups of developers (e.g. more/less advanced, different communities,...) through DX innovations or well executed existing technologies.
Best design
Devportals that found the perfect harmony of usability, content and aesthetics and present every aspect of the APIs in a well-structured, understandable way. Developer portals that inspire trust through superior production quality.
Nomination
Nomination starts in June 2018. Stay tuned!
Get notified when we start nominations