Sponsorship options of API The Docs Amsterdam 2019
WHAT IS API THE DOCS?
API The Docs is a conference series for practicing and prospective technical writers, API developers, API team leads, product owners, developer evangelists and any other people interested in the documentation side of the transformation that APIs bring to the world.
The conference is meant to be a "platform", an "information hub" – it creates an excellent opportunity to share, discuss and learn about the latest trends and best practices of developer portals and their API documentation components.
WHY SPONSOR?
API The Docs brings together people from Europe and North America who use, develop and design developer portals and work with API documentation. In addition to raising brand awareness, the conference is an excellent opportunity to
Build relationships and engage with the community

Reach out to a (new) target audience

Increase awareness around a new product launch

Reposition an existing product
SPONSORSHIP OPTIONS
API The Docs is looking for sponsors to create the best conference possible. If you want your brand to be part of the conference, check the following sponsorship packages and contact us at info@apithedocs.org.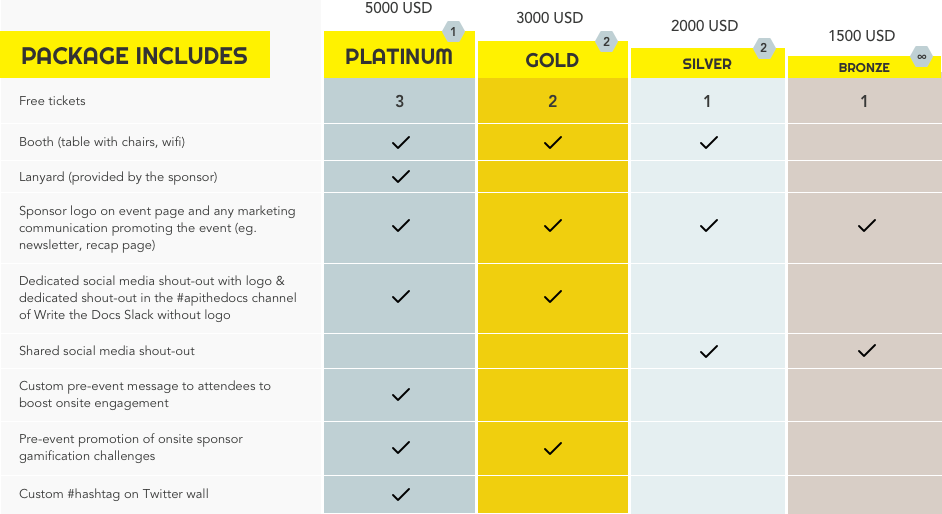 API The Docs is open for custom sponsorships too. Here are some options to consider:
Speakers' dinner with venue & drinks & snacks (pre-event program)

Lunch

Media sponsorship

Post-conference image video

Networking reception with drinks & snacks (post-event program)

Past conferences were supported by Apigee, MongoDB, Mozilla, Netlify, Nexmo, ABN Amro, GDS UK, and SlashData.
API THE DOCS AMSTERDAM – A NEW FORMAT
The conference series returns to Amsterdam with a special edition in October! To fulfill the request of the API The Docs community, this year's European edition is the first ever two-day event with talks, unconference sessions and many networking opportunities.
Day 1: Conference with sessions from speakers selected through our call for proposals.

Day 2: Open Space conference in which the attendees set the agenda. An opportunity to find peers that are dealing with similar problems (e.g. scalability, industry, organizational demands).

The conference covers a wide variety of topics:
API portal strategy & tactics

Top portal showcases

Portal technologies

Developer portal metrics

Developer portal features, components, and products

API team workflows & best practices

API specification languages

API design and governance

Developer experience design, gamification, and innersourcing as tools to improve API quality behind the firewall

Localization & internationalization of API docs

Documentation accessibility

DocOps, Docs as Code, CI/CD case studies

Career topics

Editorial workflows & writing formats and how they can be used in API team


Call for Proposals is open on Papercall from May 15 until June 30.